1967 Corvette
We dont get much snow in Georgia, but when we do it makes for great pictures!
Options on car:
LEATHER INT, 400HP 427 ENG, AIR COND, POSI, AUTOMATIC TRANS, BOTH TOPS, AM-FM, POWER WINDOWS, POWER BRAKES, POWER STEERING, TELESCOPIC COLUMN, SPEED WARNING, HEADRESTS, SIDE EXHAUST. SUNFIRE YELLOW WHEN PURCHASED, ORIG COLOR WAS RALLY RED.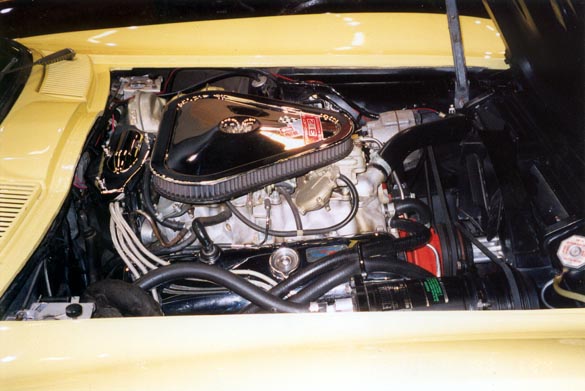 CURRENT RUNNING GEAR IS A MILD ROLLER CAMMED TRI POWER 427, 700R4 TRANS AND 3.55 POSI, THIS CAR WAS BUILT TO BE DRIVEN AND ENJOYED, NOT FOR THE "NUMBERS MATCHING" CROWD
---
HERE'S A PIC OF THE VETTE AT BEACH BEND RACEWAY. I DROVE IT UP TO BOWLING GREEN IN THE CARAVAN FOR THE 5TH YEAR CELEBRATION. IT CAN BE SEEN ON "MY CLASSIC CAR ".
THIS CAR IS DRIVEN AN AVERAGE OF 10000 MILES A YEAR, OVER THE PAST YEARs IT WAS DRIVEN TO: GEORGIA, NORTH CAROLINA, SOUTH CAROLINA, FLORIDA, ALABAMA, TENNESSEE, KENTUCKY, VIRGINIA, WEST VIRGINIA, MARYLAND, AND PENNSYLVANIA. CAR WAS ALSO USED IN THE TV SERIES SAVANNAH.

ON THE HIGH BANKS ON TURN 4 AT ATLANTA MOTOR SPEEDWAY. "HEY" VETTES ARE MEANT TO BE DRIVEN AND ENJOYED! RIGHT!
In the 10 years I owned this car, I put well over 100K miles on it, I achieved a best of 20.6 mpg, ran a best of 13.21 @ 103 mph in the quarter. of all the car I have owned, I regret selling this one probably most of all of them.
MISC PICS FROM VARIOUS TRIPS AND SHOWS
194677S107379