1960 Corvette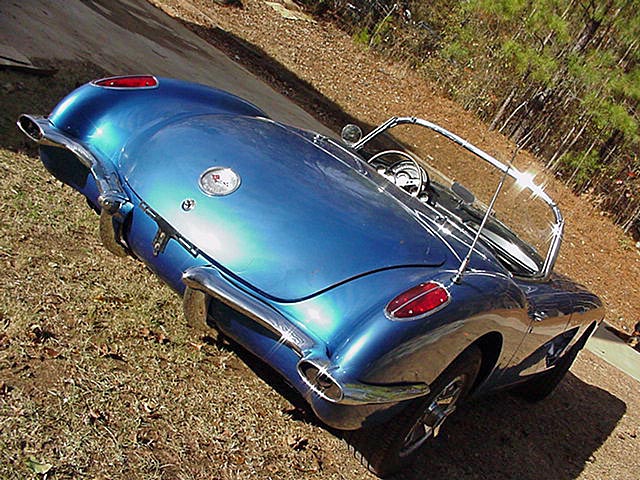 This is a 1960 Corvette. It appears to be a 60's or 70's custom. Front bumpers have been removed and filled. side trim has been removed, front nose emblem has been removed. The rest of the exterior of the car appears unaltered. Interior has an aftermarket tach, steering wheel, and door panels. Paint is old as car has been sitting in a garage since 1993. has nicks, chips, scratches, some cracks, ect. it is presentable but will need to be repainted, I am guessing it was last painted in 1984.
This corvette looks to have originally been Horizon blue (1 of 766), I have no idea of what the current color of blue is. Options on this Corvette include: 4 speed, 3.70 posi, dual speed wipers with washers, courtesy lights, heater, and a radio. hardtop is MIA and the car now only has a soft top. Seats and frames are in excellent condition, I removed cushions for inspection, they are the nicest unrestored seats I have ever seen in a C1. springs still cloth wrapped, frames rust free.
Soft top is dated 1984 and is usable as is, but has a few small areas worn on it. rear window is clear, looks like top was left down for many, many years. It looks like I was the first one to put it up since it was stored in 1993. Heater, wipers, and lights all work. Steering box and suspension seem tight. Frame is rust free and solid, this includes the both the rear crossmember and area around 3rd arm bracket.
Engine is a non original 65-66 327 w/double hump heads and a small holley carb (air cleaner removed for pics) 870 block, HD block code. engine starts and runs well, does not seem to smoke at all, has good oil pressure, seems to run cool. Trans is a borg warner T10 with a hurst shifter. shifts fine, clutch and trans both seem fine, emergency brake works.
Original vin still attached to the column, chrome and stainless are very nice original parts, windshield and door posts are super nice for not being rechromed, door handles, taillights, ect are very nice originals. Brakes on this vette work, but I don't trust them. I have driven it around the yard and a short trip up and down the street without instance, but old brakes make me nervous. This is an excellent candidate for a resto mod project. most all hard to find parts are here and in good condition. Or could be a great entry lever straight axle driver/fun vette with just a little bit of tinkering here and there.