1978 Macho TA 174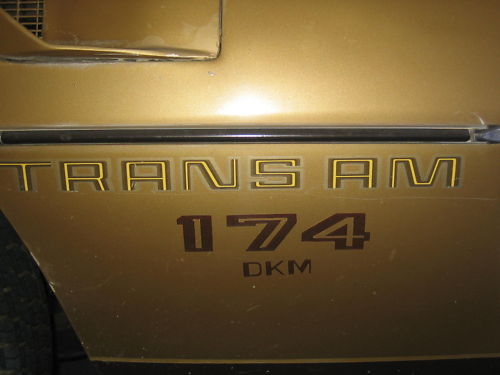 1978 Pontiac Macho Trans Am # 174, "This is a well documented matching numbers car showing only 84,000 original miles. Color combo is Solar Gold with Chesterfield Brown accents and Camel tan interior. Options include PS, PB, AC, PW, PT. WS6, Tilt, cruise, Deluxe velour interior, Fisher t-tops. Documented with PHS, build sheet, copies of old titles, Mecham Pontiac records and receipts. Car still has its original DKM installed options: headers, shaker, console plate, and still runs converters. This car is unusual as it is one of only a few (4 currently known) in '78 to have the roof painted in its accent color (similar to an RS Camaro) instead of the typical stripes just around the windows, (other known cars with painted roofs are #171, #173 and #178); also rare are the fisher T-Tops as Mecham preferred a hardtop car.
This car runs and drives fine, I bought it last January to compliment my other 2 Machos, and have only put about 100 miles on it since. It is a solid car that lived its whole life in Arizona until I brought it to GA. The more I drive it the better it seems to drive, it was off the road from 2007 till this year, brakes are fresh, front suspension has been rebuilt, interior has had new carpet, door panels, headliner and seat covers. Tires are 95 %, wheels have been refinished, engine has been tuned and fluids changed, cars starts and runs fine, I am not afraid to drive it most anywhere. What it really needs is a good paint job. I painted #171 a few years back with spectacular results. I am available to paint this car as well. I will post a video in the next few days. Email with any questions, car is available for inspection most anytime, Thanks!
Macho TA's are the only 70's version of the now famous dealer tuner cars of the 60's, Yenko, Berger, Baldwin Motion, Nicki, Royal Bobcat, Mr Norm, ect.
26 built in 77
202 built in 78
96 built in 79
all images on this website are the property of allmusclecars.com and not to be used without express written permission.